E-charging station
The general switch to electric mobility is taking place gradually and will increasingly be used by employees and guests of our institute. Our institute has therefore decided to set up electric charging stations in cooperation with the Stadtwerke Heidelberg (SWH). In doing so, we will fulfill a legal regulation that has already been passed and will soon come into force: The Gebäude-Elektromobilitätsinfrastruktur-Gesetz (Building Electric Mobility Infrastructure Act), or "GEIG" for short. The law stipulates that, after January 1, 2025, a charging point should be installed for every non-residential building that has more than 20 parking spaces.
We will already start this year with an e-charging station with 2 charging points. The e-charging station will be located at the parking lot in front of the fence of the institute building, as it will be accessible to the public - see site map.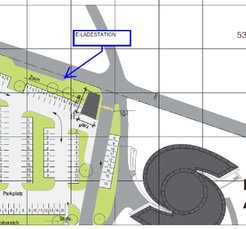 Stadtwerke HD will supply and operate the charging points. We allow the installation on the area, which still belongs to the institute outside the fence. And we create the connection to our power supply with buried cables.
The corresponding concession and usage agreements between the municipal utilities and the MPI are currently being negotiated. We expect that the first e-cars will be able to be charged this summer - and that you will be able to drive your electric vehicle to the institute and charge it here.