Living in Heidelberg
Heidelberg is one of the most popular cities in Germany. Here, we have some assembled some information for you - practical as well as general - about living here.
About Heidelberg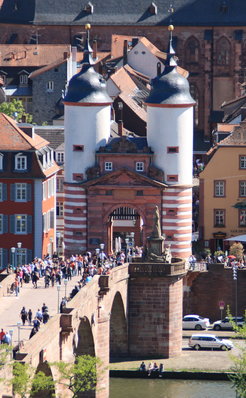 Heidelberg is one of he leading centers for astronomy in Germany and Europe. But it is also Germany's oldest university city, and famous for its romantic medieval old town. Located in the Neckar valley and surrounded by densely forested hills, it offers many beautiful spots for recreational activities. Notable landmarks include Old Bridge and Heidelberg Castle, which are popular tourist attractions.
Heidelberg has about 150.000 inhabitants, welcomes about 3,5 million guests per year, and is as attractive for tourists as it is for students and researchers.
Getting around in Heidelberg
Public transport
Heidelberg has a good public transportation system: buses, trams, local trains and even a funicular to Königstuhl will help you get around.
Public transportation is organized in the Rhein-Neckar Transport Authority (VRN), whose web pages also feature and a point-to-point search function. online time tables
You can speak personally to a service agent at the RNV Service Centre (RNV-Kundenzentrum) across the main train station (Hauptbahnhof, Hbf) at Kurfürstenanlage 62 (Google Maps Link). Heidelberg main station is about 8 km from MPIA.
For informations on how to get to MPIA with public transport, please consult this page.
Taxi services
Heidelberg's central number for calling a cab is
(06221) 30 20 30
Car-sharing
Do you need a car now and then, but are not using it frequently enough to justify buying one? Then car sharing might be an option for you:
Rent a bike
Heidelberg is great for biking. Here are some possibilities of renting a bike:
Family matters
Heidelberg is a family-friendly city. We list some of its daycare/education institutions below; MPG employees can also take advantage of the family consultancy service "Besser betreut" ("Better care") free of charge:Besser betreut. MPIA is a member of "Bündnis für Familie" (literally the "Alliance for the family"). In collaboration with the University of Heidelberg, the German Cancer Research Institute (DKFZ), the University of Education, the European Molecular Biology Laboratory (EMBL), the SRH Holding, the University of Mannheim and further Max-Planck institutes in Heidelberg , the Dual Career Service helps you to get in touch with potential employers in Heidelberg and therefore provides support if your partner searches for suitable jobs:

Bündnis für Familie
Daycare
Schools
After 4th grade, pupils in Germany continue to separate schools, based on their academic ability: Hauptschule, Realschule, or Gymnasium. Schools in Heidelberg:
MPIA cooperates with the Heidelberg Internation School (HIS). Please contact the International office if you are interested. F+U elementary school is a good option if the child does not speak German.
Recreation / leisure
There are lots of possibilities for recreation and leisure in and around Heidelberg. Offers that are particularly suitable for families are marked with an asterisk *.
General information
Sightseeing highlights
In the region
* particularly suitable for for families with kids
Health
It is highly recommended that you choose a general practitioner as your family practitioner ("Hausarzt"), who would then be available for check-ups, for emergency consultations and for referrals to specialists. Best practice for finding a good doctor is to ask your colleagues for a recommendation.
If you have public health insurance (cf. our page on health insurance), it is mandatory that you see your family practitioner (or any other general practitioner) to obtain a specialist referral. If you have to consult a doctor, you may ask your colleagues for a recommendation or have a look here:
Gelbe Seiten (click "Branchen" on the left to find a specific specialty, and "Stadtteil" to search in a specific borrow)
Usually, you will need to make an appointment with the doctor's office, and present your health insurance card on the day of your visit. If you urgently need help outside the regular opening hours, or if you need to go to a hospital, please have a look here:
Useful emergency phone numbers
General emergencies, police: 110

Medical emergencies and fire: 112
Poison center for Baden-Wurttemberg: 0761 - 19 240
Shopping
Furniture
IKEA
, 69190 Walldorf, Josef-Reiert-Straße 9
IKEA
, 68307 Mannheim, Frankenthaler Straße 123
XXXLutz
, 68309 Mannheim, Spreewaldallee 40
MÖBELUM
, 69123 Heidelberg, Grenzhöfer Weg 31
Möbel AS
, 69207 Sandhausen, Robert-Bosch-Straße 2
Second Hand
Flea Markets
Grocery