Upon your arrival in Heidelberg
Whoever comes to live in a German city needs to register as a resident. Depending on your nationality, you will also need to apply for a residence permit.
Registration / getting a residence permit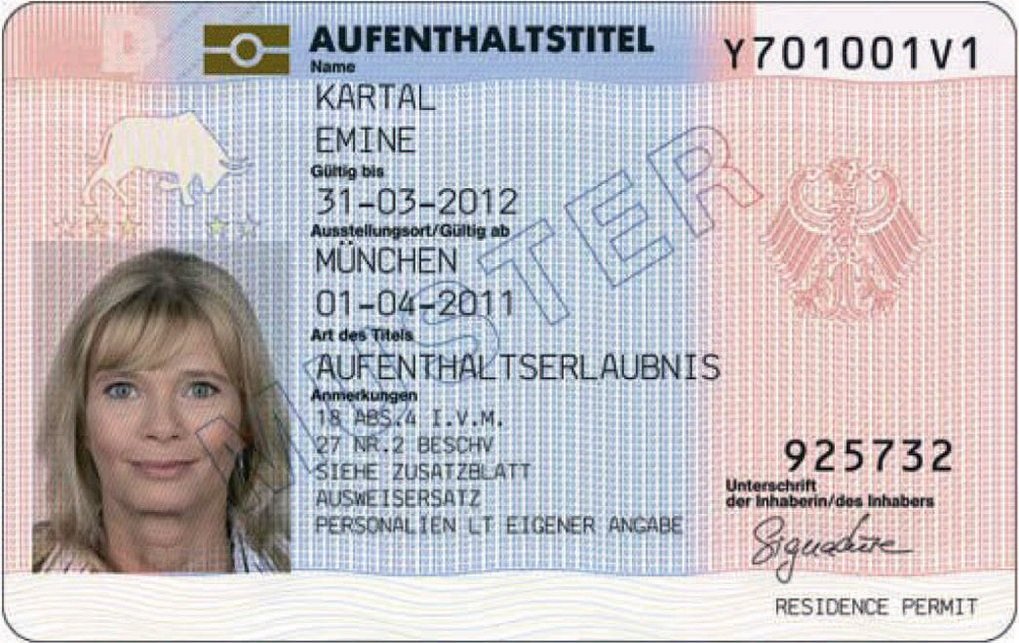 Zoom Image
This is what a residence permit looks like
This is what a residence permit looks like
If you stay more than 2 months in Heidelberg, you should register within one week after arrival with the Resident's Registration Office. Please contact the Office corresponding to your residential district. A valid passport/ID (and, if applicable, visa) as well as a housing confirmation from the landlord or guest house administrator, the so-called Wohnungsgeberbescheinigung is required. Please inform the office of any change in address, and also when you leave Germany at the end of your stay.
Apply for a Residence permit
Depending on your citizenship, you may have to apply for a resident permit.
Citizens from the Member States of the European Union (EU), Switzerland, Iceland, Norway and Liechtenstein do not require an entry visa nor a residence permit.
Nationals from Australia, Israel, Japan, Canada, New Zealand, the Republic of Korea and the USA: Stipend holders do not require an entry visa but have to apply for a residence permit within 90 days. Staff with work contract have to apply for an entry visa.
A residence permit is a permit issued by the local Immigration Office to stay in Germany for a specific purpose. You have to apply for it within 90 days. It is advisable to get in touch with the local office for an appointment asap. Contact the International Officer to make sure to apply for the proper type of visa. There are different types: student visa (§ 16), work visa (§ 18), blue card EU (§19a), research visa (§ 18d, previously § 20). Required documents: 1 biometric passport size photo, proof of sufficient financial resources, certification from the host institute, proof you health insurance coverage, passport, application form.
Application form
Please email the corresponding person according to your family name a few days after having registered in Heidelberg since it takes several weeks to get an appointment:
Opening a bank account
Zoom Image
Bank accounts. Much neater than this unwieldy heap of cash.
Bank accounts. Much neater than this unwieldy heap of cash.
If you stay in Germany for a longer period, you will need to open a bank account. This is true in particular if you receive a regular salary, and if you need to pay rent. In Germany, those financial transactions that do not involve cash are routinely handled via bank transfers. Personal cheques are virtually unknown. In addition to regular banks, Germany features savings banks ("Sparkasse") and Post Office Banks ("Postbank"). Their levels of service are roughly the same, but there are differences in customer service, and also in the fee structure. Your best bet is to ask your colleagues about their experiences.
In order to open an account, you will need to bring both your passport and a certificate of residence from the Residents' Registration Office (Bürgeramt); you will get such a certificate automatically as soon as you register.