Graphics Department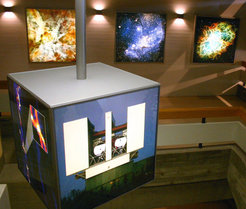 The graphics department, located in the Western spiral arm of Haus der Astronomie, provides graphics and layout services to MPIA staff. To this end, graphics department members combine draftsmanship, with web design, magazine layout, art and illustration skills and astronomical know-how.
We can help you - from advice to production - with posters, pamphlets, flyers, books, magazines, badges, business cards, desk signs, roll-ups and other printed deliverables. In many cases, printing can even be done in house - including, with the help of the Technical Service department, the mounting of large poster prints.
You're sure to have come across our work throughout the institute. The MPIA annual report? Lay-outed and finalized for printing by the graphics department, including preparation of all the graphical elements. The daily updates of the events calendar online - also displayed on the monitor in the foyer - as well as the room booking are additional services provided by the department.