Information for Pupils and Teachers
From internships to the annual Girls' Day, from guided tours and public talks to highly popular (but rare) Open Days on the Königstuhl, there's a lot on offer for pupils and/or their teachers at the Max Planck Institute for Astronomy.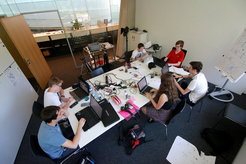 The catch is that most of what we do and offer is in German. That's why, for the details of most of our activities, we would like to point you directly to the German part of our website, namely to Schüler und Lehrer.
Guided tours of the astronomical institutes on Königstuhl are also offered in English.
The MPIA campus hosts Haus der Astronomie (HdA), our Center for Astronomy Education and Outreach whose activities can be found on the
The HdA offers workshops in English on a case-by-case basis.
English is also the language of our International Summer Internship Program for older pupils.