Data Science Department
Our Mission
The DS department at MPIA supports MPIA staff to carry out novel, cutting-edge research and to establish MPIA as a world-wide leader in astronomical data science.
Get in touch
Our activities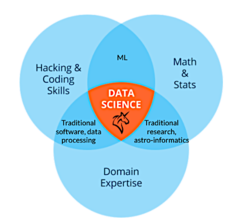 Our main activities focus on three pillars
Solidify foundational hacking & coding skills
Developing a solid base in modern engineering and data management practices among scientists. Complile library of resources, based on new and existing materials. Offer regular hands-on workshops.
Provide a space to explore and develop data science skills
Focus on established and emerging techniques associated with data science - statistics, machine learning, algorithms. A forum to share experience, brainstorm ideas, and facilitate knowledge transfer.
Networking, outside presence and broader impact
Building strong relationships with peers and industry in the area of data science to see the long game, adopt new technologies and influence their development, shortening the path to the next discovery.