Thorsten Neckel (1937-2020)
On August 8, 2020, Thorsten Neckel has passed away at the age of 83 years. He was not only one of the first scientific employees at MPIA, but also did pioneering work in the search for a telescope site for one of the institute's observatories in the southern hemisphere.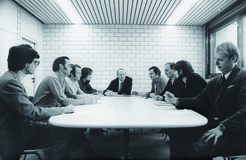 Thorsten Neckel was one of the first scientific staff members of our institute, founded in 1969. His path began as an amateur astronomer during his school days in Rostock. After he was not accepted for studies there, he succeeded in obtaining a remarkable doctorate in Göttingen on the structure of the Milky Way and the distribution of interstellar dust. He followed his doctoral supervisor Hans Elsässer to the Landessternwarte in Heidelberg. When the latter became the founding director of MPIA, Neckel was persistently committed to finding a location for a planned observatory in the southern hemisphere. After observation campaigns at a South African observatory, he traveled to Namibia, partly at his own expense and accompanied only by another astronomer, and discovered in 1969 the Gamsberg (2347 meter) as a suitable site. When the first observations with small telescopes turned out to be favourable, Neckel began to build an observatory for the 50-cm telescope of MPIA on the Gamsberg with great commitment. Together with Gerhard Klare, he thus succeeded in observing young stars in the nearby spiral arms of our Milky Way. Now the way seemed clear for the installation of the MPIA 2.2-m telescope: Neckel prepared the purchase of the Gamsberg by the Max Planck Society, at that time for the price of a VW Beetle. And he caught up with his family for a life in Namibia.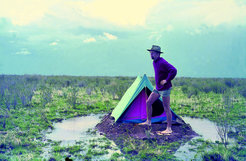 After the use of the Gamsberg by the MPIA was unexpectedly blocked for political reasons in 1972, Neckel and Jakob Staude turned their attention to a new field of research: bipolar nebulae, an important object class for the formation of stars and planets. Now, Thorsten Neckel was also able to observe them at MPIA's northern "Southern Observatory", the Calar Alto Observatory in Spain. In addition to his actual research work, the three-volume "Atlas of Galactic Nebulae" was produced in the years 1985-1990, together with Hans Vehrenberg and supported by MPIA. Neckel was a member of the editorial staff of "Sterne und Weltraum" for several years and provided amateur astronomers with exciting observational tips. His development of the Gamsberg currently benefits the "International Amateur Observatory Gamsberg".
Thorsten Neckel died on 08.August 2020 at the age of 83 years and was buried at the Wilhelmsfeld cemetery. He remains in our memory as an always enthusiastically observing astronomer and as a tireless pioneer for the observatory planned on the Gamsberg. A detailed tribute to Thorsten Neckel's life's work written by Jakob Staude will be published in fall in "Sterne und Weltraum".
Text: Dietrich Lemke