Richard Anderson awarded with 1.84 Mio Euro by ERC Starting Grant
Richard Anderson, currently postdoctoral research fellow at the European Southern Observatory (ESO), has been awarded with 1.84 Mio EURO by an ERC Starting Grant scheme. In February 2021 he will be joining MPIA as a group leader in the "Galaxies and Cosmology Department".  The ERC-group which will consist of Anderson as group leader, one postdoctoral researcher, and two PhD students, will focus on high precision measurements of the Universe's current expansion rate.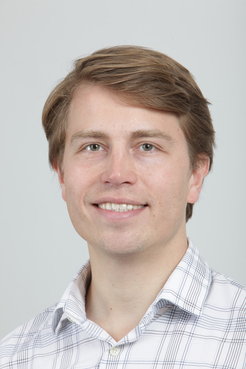 Richard Anderson's project "H1PStars" pursues a 1% measurement of the Universe's current expansion rate (H0) by pushing the precision and accuracy of pulsating star distances. The 1% H0 measurement is urgently needed to solve the conundrum of whether cosmology is missing a fundamental physical ingredient or whether some devious measurement errors have everyone fooled.
Pulsating stars, and in particular the so-called classical Cepheids, calibrate the absolute length of the cosmic distance ladder, which provides the most precise H0 measurements in today's Universe. The basic measuring principle is based on so-called standard candles. If we find objects of known brightness in distant galaxies, we can draw conclusions about the distance by comparing their apparent brightness - how bright they appear to us due to the distance - with their known actual brightness. Cepheids are such useful standard candles since the lenght of their period between maximum and minimum brightness tells us their absolute brightness at maximum.
Since Cepheids dominate the uncertainty of the distance ladder, their study will provide the largest gains in precision. At the same time, much remains to be learned about the physics governing these stars in order to support precision cosmology with accurate astrophysics. In the course of the project, the H1PStars team will use observational data, including from the Hubble Space Telescope, the ESA mission Gaia, and large quantities of spectroscopic time series observations of pulsating stars.
"As someone with a background in the physics of stars, I want to make sure that we use everything we know about pulsating stars to avoid a mistake in cosmology. But wouldn't it be so much more exciting if we found out that there was something completely new to be learned about basic physics and how the Universe evolved? Either way, we stand to learn a lot about stars and the Universe!"
Richard Anderson studied physics in Germany and Sweden and graduated with a Diploma in physics at the University of Göttingen, Germany in 2009. He carried out his PhD studies at the University of Geneva in Switzerland under supervision by Laurent Eyer and Nami Mowlavi. Richard Anderson moved to the Johns Hopkins University in Baltimore, MD, USA as a Swiss National Science Foundation postdoctoral fellow to work with Adam Riess. In 2017, he joined the European Southern Observatory (ESO) at is headquarters in Garching near Munich, Germany, as a postdoctoral research fellow. Richard Anderson will be joining MPIA in February 2021 as a group leader in Hans-Walter Rix's Galaxies and Cosmology Department.
The European Research Council provides different grant schemes within the ERC Frontier Research Grants scheme. Successful grant applications must demonstrate the ground-breaking nature and ambition of the projects, as well as the excellence of the investigators.
Press Release of the European Research Council:
https://erc.europa.eu/news/StG-recipients-2020
RA/KJ