Public events
Astronomers from the Max Planck Institute for Astronomy regularly lecture on their research results and on new developments in astronomy and astrophysics as part of a series of events at the Haus der Astronomie, our Center for Astronomy Education and Outreach.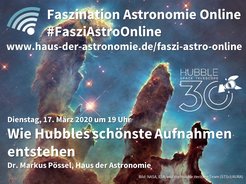 Most public events at Max Planck Institute for Astronomy and the Haus der Astronomie are in German. You can find more information about the various event formats on their webpages.
Due to the coronavirus situation, only sporadic events are currently taking place on site at the House of Astronomy. Instead, the House of Astronomy offers a regular programme with two half-hour lectures each week via livestream. This format is called Faszination Astronomie Online (Fascination Astronomy Online).
Every few years, when the Max Planck Institute for Astronomy opens its doors for an Open Day, you will find us fully bilingual – both as you talk to our scientists (hailing from more than 40 different countries) and as you attend brief talks, in English, describing our research into planet formation, galaxies and cosmology as well as the telescopes and instruments we both use and help develop.
Future dates will be posted here as soon as they are fixed.