The Sloan Digital Sky Survey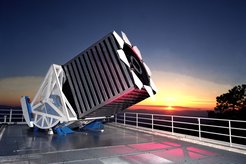 Over the last 15 years, the Sloan Digital Sky Survey (SDSS) has revolutionized many fields of astronomy. It has produced some of the most detailed three-dimensional maps of the Universe ever made, with deep multi-color images of 1/3 of the sky and spectra for more than three million astronomical objects.
All phases of the SDSS survey have been carried out by an ever growing consortium of universities and institutions. As the first European partner institution, MPIA has been part of the SDSS surveys since their inception in 1998.
SDSS uses a dedicated 2.5-m ƒ/5 modified Ritchey-Chrétien altitude-azimuth telescope located at Apache Point Observatory, in south east New Mexico. A 1.08-m secondary mirror and two corrector lenses result in a 3° distortion-free field of view.
In its next phase, SDSS-IV, the survey will begin including observations from the southern hemisphere for the first time. These will be taken from the Irénée du Pont Telescope at Las Campanas Observatory in northern Chile. The du Pont Telescope is a Ritchey-Chrétien 2.5-m ƒ/7.5 telescope with a Gascoigne corrector lens.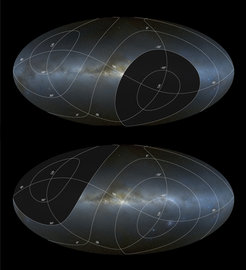 SDSS-IV
SDSS began regular survey operations in 2000 and it has progressed through several phases: SDSS-I (2000-2005), SDSS-II (2005-2008), SDSS-III (2008-2014), and SDSS-IV (2014-2020). Each of these has involved multiple surveys with interlocking science goals. Over the years, astronomers have used SDSS data to make numerous discoveries related to the nature of the Universe at all scales. SDSS-IV will extend precision cosmological measurements to a critical early time in cosmic history, expand its revolutionary infrared spectroscopic survey of the Milky Way in the northern and southern hemispheres, and for the first time use the Sloan spectrographs to make spatially resolved maps of individual galaxies.
The three surveys that comprise SDSS-IV are:
Futher reading: