Sofja Kovalevskaja-Prize of the Humboldt-Foundation for Karin Lind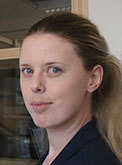 The Alexander von Humboldt Foundation has announced to award six international research talents with the Sofja Kovalevskaja Prize 2015. With up to 1.65 million Euros each in prize money this is one of the most highly endowed scientific awards in Germany. The aim is to enable outstanding young scientists to build up a working group for an innovative project at a German research institute.
Among the winners is Dr. Karin Lind from Sweden, who will start her research group in October 2015 at the Max Planck Institute for Astronomy in Heidelberg, exploring through stellar spectra the production of chemical elements in the early Universe. The awards will formally presented in November 2015 by the Federal Research Minister Johanna Wanka and the President of the Alexander von Humboldt Foundation, Helmut Schwarz.