Ludwig Biermann-Prize of the German Astronomical Society (AG) for Karin Lind
This  year,  the  Ludwig  Biermann  Prize  of  the  German  Astronomical  Society  (AG)  will  be awarded to Dr. Karin Lind from the Max Planck Institute for Astronomy (MPIA) in Heidelberg.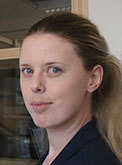 With the prize, the German Astronomical Society honors outstanding researchers early in their career. Karin Lind
convinced the reviewers with her fundamental and outstanding achievements in the field of theoretical modeling of stellar spectra.
Karin Lind studied astrophysics at the University of Uppsala, was working also in Garching/Munich at ESO and the Max Planck Institute for Astrophysics, as well as at Cambridge University. She was awarded in 2014 with a Marie Curie Fellowship and received the prestigious Sofia Kovalevskaja-Prize from the Humboldt Foundation in 2015. Currently, she heads a research group at the Max Planck Institute for Astronomy in Heidelberg. The German Astronomical Society awards the Ludwig Biermann Prize (named the after the German astronomer, 1907-1986) to Karin Lind on Tuesday, September 13, 2016 during the opening ceremony of the annual meeting of the AG in Bochum (September 12 to 16, see ag2016.de).
More information:
Press release of the German Astronomical Society at idw
Press release of the German Astronomical Society at idw (in german)
Homepage of the German Astronomical Society (AG) with pdf-versions of the press release