MPIA runners raise funds for a good cause
An appeal for donations in connection with the participation of 14 MPIA employees in this year's SAS half-marathon in Heidelberg achieves revenues of over EUR 2000 for Milly's Mission Against BPAN.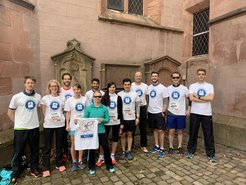 A team of 14 employees of the Max Planck Institute for Astronomy (MPIA) took part in the annual SAS Half Marathon in Heidelberg on 7 April 2019. The best runner in the MPIA team completed the demanding 21-kilometer course in less than 1 hour and 40 minutes.
The participation was combined with an appeal for donations to the MPIA. The employees were asked to donate an amount per kilometer run and per runner in order to strengthen the motivation of all participants to reach the finish line. All 14 runners succeeded in doing this.
The revenue of EUR 2279 goes to an MPIA employee's project called Milly's Mission. This is a fundraising and information campaign to develop a treatment for the very rare neurodegenerative disease called BPAN, which the 6-year-old name-giver and daughter of the mission's initiator is suffering from. This donation will be used for medical research on the disease. More detailed information about Milly's Mission can be found on the corresponding website.
We are pleased to be able to support this important project with our contribution.