Innovative Training Schools: Mechanical Workshop and Personnel Department of MPIA Awarded by MPG
Each year, the Max Planck Society awards three institutional training centers for their special commitment to vocational training. Among the prize winners in 2014 is the MPIA with its Mechanical Workshop and the Personnel Department.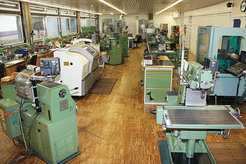 With this prize, the Max Planck Society and the prize committee (composed of educators and members of the GBR, GJAV and GV) would like to express their appreciation for the performance of all educators and trainers.
This award is intended to highlight institutes that exceptionally support the training of young people based on the development of innovative training concepts, their intensity of care, special offers for cooperation with external partners, or by providing additional qualifications, for example. The award includes a prize-money of 7500 Euro to be used for training purposes.
Two project proposals/departments were awarded at MPIA:
Firstly, the Mechanical Workshop for introducing both technical discussions as well as special project weeks taking place twice a year.
Furthermore, the Personal Department was recognized for its interdisciplinary training project for apprentices, entitled "Work and Family. My Life", and the development, evaluation and presentation of employee interviews.