Three Awards for Anica Till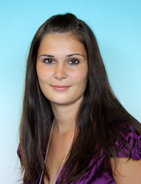 For her excellent written work, Ms. Anica Till – trainee in the MPIA administration to become an office clerk – received recently three awards.

Ms. Till was reviewed with "excellent" in all subjects of the commercial vocational school and received the "Förderpreis 2013 des Unternehmenskreises Mosbach". Furthermore, she was awarded with the "Preis des Fördervereins für Bürokaufleute der Ludwig-Erhard-Schule" as well as with the "Mosbach-Urkunde der Ludwig-Erhard-Schule" for outstanding school achievements. On July 18, Ms. Till completed her education successfully with the final oral examination.