Julian Baldauf Received the Trainee Award 2013 of the Max Planck Society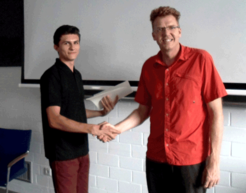 For the seventh time, the Max Planck Society (MPG) has awarded the Trainee Prize for outstanding achievements in vocational training. The winner 2013 is Julian Baldauf from MPIAs precision engineering department.

With the prize, MPG recognizes not only the outstanding professional and academic performance during the training, but also the personal development and the social commitment of the trainees.

Julian Baldauf has shown excellent performance since the beginning of his training in 2010 in the precision engineering department of the Institute and has worked on many different projects. Particularly, he had a large share in the realization of the All Sky Camera.

Next professional goal of the winner upon completion of training at the MPIA in the spring of 2014, will be the examinations of the master´s certificate.