IMPRS-HD+ successfully granted
A commission formed by experts from the Max Planck Society and the German Rectors' Conference has approved the application of the Heidelberg "International Max Planck Research School for Astronomy and Cosmic Physics (HD+)". This means that the IMPRS-HD+ can start in roughly one year from now in January2023.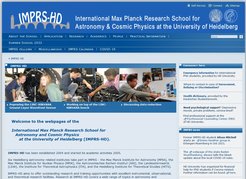 The "International Max Planck Research School for Astronomy and Cosmic Physics at the University of Heidelberg" (IMPRS-HD) was founded in 2004 as one of the first graduate schools in Heidelberg. It was established in close cooperation of the Heidelberg astronomical institutes. The main goal at that time was to establish a high quality teaching and training program, especially in English, which would succeed in attracting some of the best PhD students from all over the world to Heidelberg. It was also intended to provide an international environment for doctoral candidates from Germany.
This ambitious goal was realized from the very beginning, as the IMPRS-HD has been excellently received by students from all over the world and several evaluations by international reviewers - the first of which took place in 2011 - have led to successful extensions of the project.
Last month, a commission formed by the Max Planck Society (MPG) and the German Rectors' Conference has now approved the IMPRS-HD+ application submitted in summer 2021. The reason given in a letter from the president of the Max Planck Society was the program's "proven and globally recognized excellence" and that therefore its continuation "is logical in view of its outstanding success over the past decade and a half."
The new IMPRS-HD+ is now scheduled to start the year after next - on January 1, 2023 - and it will be funded by the MPG with €420,000 per year. In addition to funding doctoral positions, the funds also support the organization of conferences, special teaching opportunities and travelling.
Heidelberg University also contributes significantly to the success of IMPRS. Four of the six astronomical institutes in Heidelberg involved in the IMPRS are university institutes, which provide and fund half of the IMPRS students. The IMPRS is also an independent part of the "Heidelberg Graduate School of Fundamental Physics" (HGSFP), which has provided administrative and financial support to the PhD students since 2007.
More information can be found on the IMPRS-HD website at https://www.imprs-hd.mpg.de/
IMPRS coordinator is Christian Fendt (see left for contact data).
KJ