General information Open Day
What every MPIA employee needs to know about the Open Day
Contact information
For general questions, please contact the organisers at sekretariat@hda-hd.de or on our #open-day MPIA Slack channel.
Advertising
Thanks for helping us advertise the Open Day! Flyers and posters are available at the MPIA information desk. Please take some e.g. to put up in shops or schools in your neighbourhood!
Preparations
All stations need to be completed by Friday, October 13, 3:30 pm.
Anyone who still has a need for staff support, hardware/software or materials for their station, please enter them in this Google Doc as soon as possible, and send a note to sekretariat@hda-hd.de
Timing Open Day
MPIA Staff should be at the institute on Saturday, October 14, before 9 am. At 9 am, the main gate will be closed. If for some reason you are delayed, then if you arrive after 9:30 am, we kindly ask you to park at Märchenparadies instead. Visitors of our Open Day will be admitted starting at 10 am, and will be asked to leave by 5 pm.
Getting there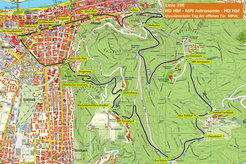 Bus #39 will run as usual from 8 am (Hauptbahnhof) onwards. During the time our Open Day is running, there will be an increased frequency for the visitors. The bus route can be seen in this map. The Science Bus #30 will not be running. Return: Departure with bus 39 from 11:32 to 18:02 every 15 minutes from the observatory (Landessternwarte), then 18:32 and 19:32 regular from the observatory.
For those arriving by car: From approx. 8 a.m., the streets around the institute will be transformed into one-way streets (see illustration). The main gate will close at 9 am sharp, and the barrier at the front of the access road at 9:30 am; vehicles must have reached the institute car park by then. However, employees can still leave the premises at any time.
Please fill the institute car park from the back to the front; use more remote parking spaces first. The parking spaces directly in front of the HdA are to be kept free. The front row of the MPIA car park is kept in reserve for vehicles of physically impaired persons. Likewise, the row of parking spaces directly adjacent to the main building (where the temporary containers used to be) cannot be used – beer table sets will be set up there.
In order to occupy as few parking spaces as possible, please form car pools if possible. There is a car-pooling list in this Google document.

Where to keep stuff
We have reserved the office 114A (around the corner from the information desk behind the main MPIA entrance) for you to put your bags and coats. You can get the key at the information desk. Note that the institute cannot assume any liability for stuff you store in that room – do not put any valuables there! In addition, there is a very limited number of small lockers in the cloakroom in the HdA foyer, which you can use. Again, the institute does not assume any liability.
Food
For all who are participating actively in the Open Day - MPIA/HdA people as well as our guests (ZAH, MPIK...) – there will be free food (grilled sausages and a vegetarian option) near the Liefereingang, behind the main building, from noon (12 pm) to 1:30 pm.
In principle, you can of course also additionally use the offers for the public. Since these are provided by external companies, we naturally have to pay there, just like all of our guests. Coffee and cake are available in the cafeteria, food trucks with warm food and drinks are located in front of the assembly halls of the main building.
Internet
The guest WLAN (mpia guest) will be available on the institute premises. Due to the expected high utilisation, the bandwidth will NOT be sufficient for the operation of cash register systems or similar. If you need access to the internet, please arrange for a LAN connection in good time (see above under "Preparations" for a list of requirements).
Safety concerns
All offices not in Open Day use will be locked by Technischer Dienst at 9:30 on June 21. If you need access to your office on Open Day, contact Technischer Dienst or those colleagues who have a master key (Rix, Henning, Voss, Jäger). If you do not want your office locked (which will be at your own risk!), contact Technischer Dienst.
Emergency service personnel will be on standby throughout the event. The go-to location for emergencies is the information desk at MPIA entrance. From there, you can also reach Technische Dienst employees via radio.
Compensation days
The institute will give you 1.5 hours off (Freizeitausgleich) for each hour you participated in the Open Day. (And yes, we realize that for the scientists, that is largely an academic question. We're grateful to you all the more!)