Max Planck House Tucson
The house is fully equipped and furnished with some additional things for your convenience, comfort and/or safety.
Useful things you'll find at the house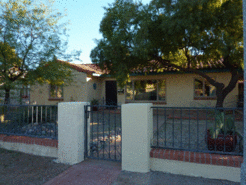 An all-wheel-drive SUV capable of going to Mt. Graham even in snow (if available, for MPG employes only for insurance reasons, reserve simultaneously with your room using the same booking form, see above)
Several additional sets of snow chains in sizes appropriate for SUVs, also for use on rental cars
Warm parkas in case you thought Arizona would be warmer than it is!
Two bicycles with locks and helmets for getting to & from the University (parking there is very tight)
Washing machine & clothes dryer plus laundry soap
Swimming pool, grill, outdoor entertainment area
Wireless internet, printer/copier/scanner (no desktop computer)
Cooler boxes for transporting your food to Mt. Graham in warm seasons
Basic food staples in the house (pasta, sugar, tea, salt, sometimes even coffee, etc.)
Basic Information
How to book your stay in advance at the MPG House in Tucson
Find out about availability for 2021, OR by contacting Lilo Schleich/Jana Baier at MPIA Heidelberg (travel@mpia.de).
Availability
If there's room in the house for your stay, you'll need to send them a completed booking form. Please note: staying at the house is free of charge for MPG employees, but for non-MPG employees it costs €60 per night.
Request Reservation Tucson Residence
Before traveling, get keys to the house from Lilo Schleich/Jana Baier at the MPIA in Heidelberg or arrange through her for keys.
Arrival information
Driving up from the airport: Easiest and most straightforward way is to drive out of the airport, take a left at Valencia, the next right into Campbell, follow it up (it changes name to Kino) all the way to Broadway, turn right and again right onto Tucson Blvd.

The first turn is onto Manchester St.

(a very short section, but the street sign says "Manchester St."- see the map image)

The bear right onto Stratford St.
Then bear right again to continue on Stratford St.
Turn left onto Devon Street.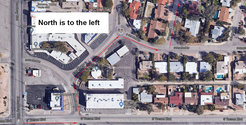 Getting there without a rental car: Arizona Stagecoach airport shuttle; taxi
Local contact details: Ed Wright, tel +1 520 954 4766 or tel +1 520 777 7933.
Once you're there: you'll know it's the right house because there's an MPG-logo Minerva on the house wall to the left of the front door.