Exoplanets and the link to formation
The atmospheres of exoplanets are widely regarded as a key to understanding planetary formation histories. This is because the process of planet formation may leave distinct signatures in the atmospheric composition. For example, the more solid material (rocks or ices) falls onto a forming planet, the more atoms heavier than hydrogen or helium will enrich its interior, and likely its atmosphere. The exact composition of the gas that a planet accretes will likewise affect its atmospheric makeup. Especially in the inner hotter regions of planet forming disks, the gas can be quite heavily enriched by molecules that evaporate off icy grains.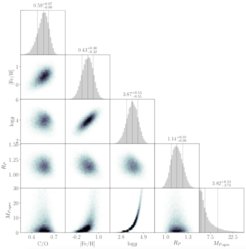 The atmospheric composition of exoplanets can be probed via spectral observations. Molecular absorption bands will imprint distinct features on the planet spectra, allowing to extract the atmospheric composition. In our group this is done by comparing millions of atmospheric models to any given observation, extracting the most likely model parameters. Before such planets can be studied, they must be discovered, however. Therefore, another important part of our work is the discovery of so-called directly imaged planets. Such gas giant planets are young and still glow hot from formation. Because forming planets are mostly unobservable, since they are hidden deep within the circum-stellar disks, directly imaged planets are the closest we can get to observing young planets. For our discovery work we focus on developing techniques that can extract the minute signal of young exoplanets orbiting their brightly glaring stars.
List of group members/ associated members working on this: Dr. Paul Mollière and Dr. Matthias Samland