METIS -

Mid-infrared ELT Imager and Spectrograph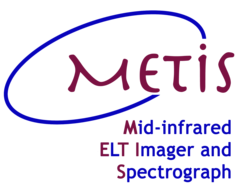 METIS is one of the three first instruments for the Extremely Large Telescope (ELT), Europe's next-generation ground-based telescope for optical and infrared wavelengths which is currently under construction at the ESO site at Cerro Armazones in Chile.
METIS will offer diffraction-limited imaging, low and medium-resolution slit spectroscopy and coronagraphy for high contrast imaging between 3 and 13 microns as well as high-resolution integral field spectroscopy between 3 and 5 microns.
The main METIS science goals are the detection and characterisation of exoplanets and the investigation of proto-planetary disks and the formation of planets.
METIS is built by a European consortium under the lead of the PI institute NOVA in the Netherlands.
Other consortium partners are MPIA (Germany), ATC (UK), CEA (France),
ETH (Switzerland), KUL (Belgium), CENTRA (Portugal), University Vienna
and Linz (Austria), University Cologne (Germany), University of Liege
(Belgium), ASIAA (Taiwan) and the University of Michigan (USA).
MPIA is the second largest consortium partner: it is responsible for the IMAGER and the Single-Conjugate Adaptive Optics (SCAO) subsystems https://www.mpia.de/en/PSF/instrumentation/metis/design and holds in addition several key roles within the METIS consortium: the Instrument Scientist, the Calibration Lead, the SCAO Lead and the Thermal Lead (in the FDR phase). The instrument scientist and calibration lead work at the interface between the scientific users who define the needed capabilities of the instrument, and the technical team who design the instrument accordingly as well as technology and resources allow. They ensure that the performance of the technical design meet the corresponding requirements and that a proper calibration ensures a high data quality. Accordingly, the SCAO Lead and the Thermal Lead are responsible to ensure the overall AO respectively Thermal performance of the complete METIS instrument.

The agreement for building METIS had been signed on 28 September 2015 between the PI institute and ESO. METIS successfully passed its Preliminary Design Review (PDR) in May 2020 and its Final Design Review (FDR) in November 2022. METIS is now in the manufacturing, assembly and test phase that will take several years. It will be commissioned at the ELT by the end of this decade.
This video explains the METIS instrument and its scientific goals.